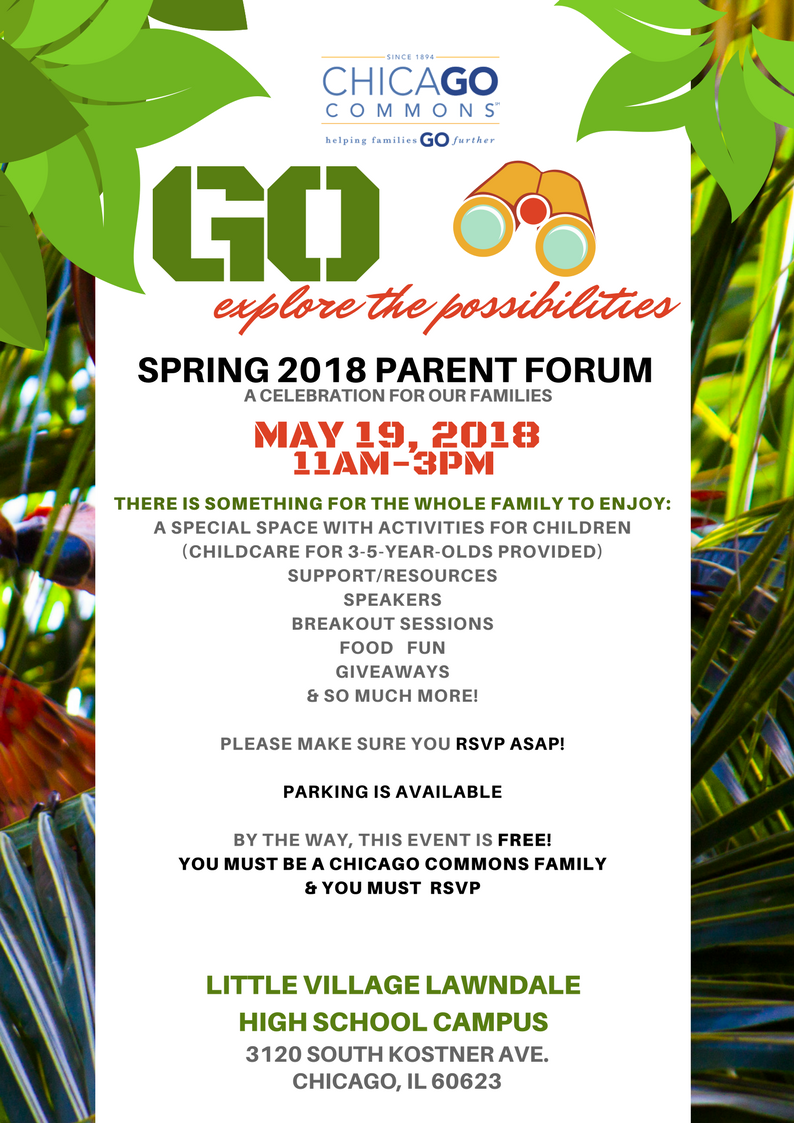 [PARTNER SITES] Chicago Commons Spring 2018 Parent Forum
May 19, 2018 @ 11:00 am

-

3:00 pm
GO: Explore The Possibilities

Spring 2018 Parent Forum | A Celebration For Our Families

Presented by Chicago Commons
Saturday, May 19th, from 11am-3pm
Little Village Lawndale High School Campus
3120 South Kostner Ave. Chicago, IL 60623
Join us for a day full of celebration and education for the whole family!
We will be providing catered lunch and snacks throughout the day.
Chicago Commons programs are designed to help children, families and seniors GO further to live richer, more fulfilling lives.
The Parent Forum will present you with how to help you to GO further and explore the possibilities regarding your future with information covering topics such as, Early Education, Financial support & Employment, Education & Training, Health & Wellbeing, Leadership & Advocacy, and more!
Come and share a noteworthy moment with us to congratulate our 2018, first pilot class of Chicago Commons "Pathways for Parents"
There is something for the whole family to enjoy:
A Special Space with Activities for Children
Support/Resources
Speakers
Breakout Sessions
Giveaways
& so much more!
For More Information & To RSVP today, please visit:
https://cc.dev/event/2018parentforum-partners
Please make sure you RSVP ASAP!
By the way, this event is FREE!
YOU MUST BE A CHICAGO COMMONS FAMILY
& YOU MUST RSVP
¡Anda!Explora las posibilidades
Foro de Padres de Primavera 2018 | Una celebración para nuestras familias
Presentado por Chicago Commons
Sábado, 19 de mayo, de 11 a.m. a 3 p.m.
Secundaria Little Village Lawndale
3120 South Kostner Ave. Chicago, IL 60623
¡Únete a nosotros para un día lleno de celebración, educación y diversión para toda la familia!
Proporcionaremos almuerzos y refrescos durante el día.
Los programas de Chicago Commons están diseñados para ayudar a los niños, las familias y las personas mayores a avanzar más para llevar una vida mejor.
El foro para familias presentará cómo ayudar ir más allá y explorar las posibilidades con respecto a su futuro con información que cubre temas tales como Educación Temprana, Apoyo Financiero y Empleo, Educación y Capacitación, Salud y Bienestar, Liderazgo y Abogacia, y más!
Venga y comparta un momento memorable con nosotros para felicitar a nuestra primera clase piloto de Chicago Commons "Pathways for Parents".
Actividades para toda la familia:
Cuidado de niños 3 a 5 anos de edad
Arte y juegos
Organizaciones y Recursos comunitarios
Presentaciones especiales
COMIDA y Talleres
Rifas
¡mucho más!
Asegúrese de confirmar su asistencia
lo antes posible, registración es requerida.
Evento Gratis!
RECUIERE SER FAMILIAR DE CHICAGO COMMONS CONFIRMAR SU ASISTENCIA
RSVP today by using the form down below: